I received this ARC from Publisher, Audiobook from publisher for free in exchange for an honest review. This does not affect my opinion of the book or the content of my review.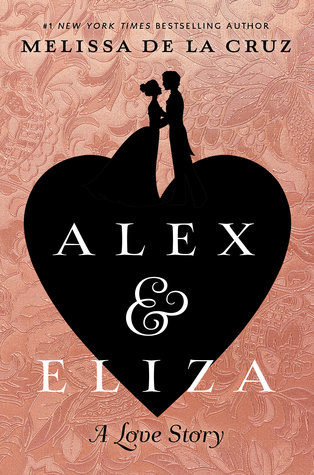 Alex and Eliza: A Love Story

by Melissa de la Cruz
Published by Penguin on April 11th 2017
Pages: 368
Source: ARC from Publisher, Audiobook from publisher
Amazon-Indiebound
Goodreads

1777. Albany, New York.

As battle cries of the American Revolution echo in the distance, servants flutter about preparing for one of New York society's biggest events: the Schuylers' grand ball. Descended from two of the oldest and most distinguished bloodlines in New York, the Schuylers are proud to be one of their fledgling country's founding families, and even prouder still of their three daughters—Angelica, with her razor-sharp wit; Peggy, with her dazzling looks; and Eliza, whose beauty and charm rival that of both her sisters, though she'd rather be aiding the colonists' cause than dressing up for some silly ball.

Still, she can barely contain her excitement when she hears of the arrival of one Alexander Hamilton, a mysterious, rakish young colonel and General George Washington's right-hand man. Though Alex has arrived as the bearer of bad news for the Schuylers, he can't believe his luck—as an orphan, and a bastard one at that—to be in such esteemed company. And when Alex and Eliza meet that fateful night, so begins an epic love story that would forever change the course of American history.

In the pages of Alex and Eliza, #1 New York Times bestselling author Melissa de la Cruz brings to life the romance of young Alexander Hamilton and Elizabeth Schuyler.
My Thoughts:
Before reading, I heard a lot of mixed thoughts about Alex & Eliza: A Love Story. I was a bit leery going in. I can honestly say that I really enjoyed this one! I listened to over half of it on audiobook and then read the last chunk. (I am so impatient with audiobooks!)
First things first, I am a huge fan of Hamilton: An American Musical. I love the story Lin-Manuel Miranda tells. But, like, we all know it's not historically accurate, right? Miranda takes the events of Hamilton's life and modifies them to fit the structure of the story he's telling. It's incredible and one of the most amazing feats of storytelling I've ever seen. But, again, Miranda has shaped the history to tell the story he found in Hamilton's life.
Similarly, Alex & Eliza: A Love Story is de la Cruz's take on the romance between Alexander Hamilton and Elizabeth Schuyler. There isn't much of a historical record of their courtship. I enjoyed seeing how de la Cruz imagined it could have went down. In an interview with EW she said, "I read a lot of history books on the women of the American revolution, I wanted to bring that domestic moment to life in the book. I thought of my book as very much a Jane Austen retelling of Alex and Eliza's story." I loved the focus on Eliza and her efforts to help in the American Revolution in any way she could. This really was a story about both Alex and Eliza and both of their contributions.
I do admit to skimming the prologue and some of the more historical parts when reading. I've read enough historical fiction from the time to not really need that info. It didn't add to the story for me. I can certainly see it being helpful to someone who didn't know much about the time. I just wanted to get to the romance!
I found Alex & Eliza: A Love Story by Melissa de la Cruz to be an enjoyable read. It filled the Hamilton shaped gap in my life while waiting for the new YA nonfiction book to come out!
Audiobook Notes:
Cassandra Campbell does an excellent job with the narration. I enjoyed the varied voices and her pacing. She kept me engaged in the story (even through some of the more historical bits that pulled a bit from the romance.) If you're unsure about this one and an audiobook fan I recommend giving the audiobook a try.
Related Posts