I received this ARC from Publisher for free in exchange for an honest review. This does not affect my opinion of the book or the content of my review.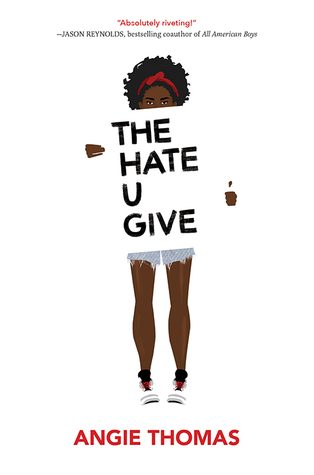 The Hate U Give

by Angie Thomas
Published by Balzer + Bray on February 28th 2017
Pages: 464
Source: ARC from Publisher
Amazon-Indiebound
Goodreads

Inspired by the Black Lives Matter movement, Angie Thomas's searing debut about an ordinary girl in extraordinary circumstances addresses issues of racism and police violence with intelligence, heart, and unflinching honesty. Soon to be a major motion picture from Fox 2000/Temple Hill Productions.

Sixteen-year-old Starr Carter moves between two worlds: the poor neighborhood where she lives and the fancy suburban prep school she attends. The uneasy balance between these worlds is shattered when Starr witnesses the fatal shooting of her childhood best friend Khalil at the hands of a police officer. Khalil was unarmed.

Soon afterward, his death is a national headline. Some are calling him a thug, maybe even a drug dealer and a gangbanger. Protesters are taking to the streets in Khalil's name. Some cops and the local drug lord try to intimidate Starr and her family. What everyone wants to know is: what really went down that night? And the only person alive who can answer that is Starr.

But what Starr does—or does not—say could upend her community. It could also endanger her life.
My Thoughts:
There has been A LOT of buzz around this book. From bookish people I follow on twitter to blurbs by some of my favorite authors (Jason Reynolds, Becky Albertailli, John Green, Adam Silvera, and more) to starred reviews from at least seven professional publications, it seems everyone is talking about it. Needless to say, I had some pretty high expectations. The Hate U Give by Angie Thomas still managed to exceed every single one. This book is such an incredibly powerful and well told story.
I honestly don't know how to express everything I feel for this book. I probably would have devoured it all at once, but it was an e-galley which I read when on the elliptical machine at the gym. On the plus side, this meant I made it a priority to get to the gym more often! On the down side, it also meant I was sobbing on the elliptical in public. Multiple times. No shame.
Whenever I wasn't reading The Hate U Give I was thinking about it. The characters, the events, the connection to major problems in our society today, the Black Lives Matter movement, my own privilege and voice and how I do or do not use them to support those with less privilege… these were always on my mind. And, honestly, still are. This book is legitimately life changing.
Angie Thomas' skill as a writer enhances all of the things I mentioned above. The way she tells Starr's story and Starr's engaging voice give this book so much of it's power. Obviously the events that contributed to the inspiration for this story are heartbreaking and powerful on their own. However, The Hate U Give makes everything feel more personal and connects the reader in a more intimate way. Since Starr is a fictional character you can really know what she is thinking and feeling. Thomas' uses this to it's fullest potential.
I could go on and on and on but this is already one of my longer reviews. I do quick want to mention two things. One: I adore Starr's family. From her parents and siblings to her grandmother and uncle and aunt… I loved every second they were on the page. Two: It was so interesting to see the ways Starr's relationship with her boyfriend changed. The ways they challenged each others thinking, but also supported each other, was so good to see. Ugh. I could go on and on about this book!
If you read one book this year, please let it be The Hate U Give by Angie Thomas. Powerful. Compelling. Challenging. Important. If I could assign required reading to America at large, this would be on the list! Don't miss it.
Related Posts