A blog tour combining Marie Rutkoski's The Winner's Kiss and favorite literary kisses in general? Oh yeah! I am thrilled to be on this one!!
For this tour, each blogger picks a favorite literary kiss and answers a couple basic questions about it. (See full tour schedule here!)
Of course I immediately thought of Darcy and Elizabeth in Pride and Prejudice and Anne and Gilbert in Anne of Green Gables… but then I realized I don't remember reading those kisses as much as seeing them in movie adaptations! So, when I put my mind to thinking about kisses in YA books that I vividly remember reading one stuck out more than any other…
What book is your favorite literary
kiss

in?

Born Wicked by Jessica Spotswood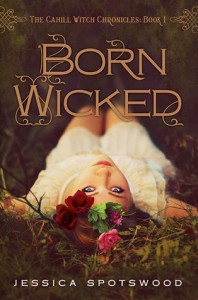 Everybody knows Cate Cahill and her sisters are eccentric. Too pretty, too reclusive, and far too educated for their own good. But the truth is even worse: they're witches. And if their secret is discovered by the priests of the Brotherhood, it would mean an asylum, a prison ship—or an early grave.

Before her mother died, Cate promised to protect her sisters. But with only six months left to choose between marriage and the Sisterhood, she might not be able to keep her word… especially after she finds her mother's diary, uncovering a secret that could spell her family's destruction. Desperate to find alternatives to their fate, Cate starts scouring banned books and questioning rebellious new friends, all while juggling tea parties, shocking marriage proposals, and a forbidden romance with the completely unsuitable Finn Belastra.

If what her mother wrote is true, the Cahill girls aren't safe. Not from the Brotherhood, the Sisterhood—not even from each other.
Who is
kissing

?

Cate Cahill and Finn Belastra
Why is it your favorite?
There are a lot of great kisses in YA (I mean, hello! Steph Perkins can write the hell outta romance and kissing scenes!) However, this is honestly one of the only ones I can remember with any detail! To set it up, Cate is visiting Finn's mother's bookshop. She and Finn end up hiding in a closet. This puts them at really close quarters! Then this happens:
Bonus Question: What
kiss

do you hope will occur in Marie Rutkoski's The

Winner

's

Kiss

?

Obvs Arin and Kestrel. Like, all of the kissing! I mean, they deserve some happy in love time! Also, after reading it I can totally say (without being spoilery!!!) I want a spin-off with Roshar where he gets to do his fair share of kissing! I loved him!

I totally want my fellow librarian and book blogger Ange to read The Winner's Curse books! I think they're great books for her to share with her students 🙂
About the Book:
War has begun. Arin is in the thick of it with untrustworthy new allies and the empire as his enemy. Though he has convinced himself that he no longer loves Kestrel, Arin hasn't forgotten her, or how she became exactly the kind of person he has always despised. She cared more for the empire than she did for the lives of innocent people—and certainly more than she did for him.

At least, that's what he thinks.

In the frozen north, Kestrel is a prisoner in a brutal work camp. As she searches desperately for a way to escape, she wishes Arin could know what she sacrificed for him. She wishes she could make the empire pay for what they've done to her.

But no one gets what they want just by wishing.

As the war intensifies, both Kestrel and Arin discover that the world is changing. The East is pitted against the West, and they are caught in between. With so much to lose, can anybody really win?
About the Author:
Marie Rutkoski is the author of The Kronos Chronicles, including The Cabinet of Wonders and The Celestial Globe. The Cabinet of Wonders, her debut novel, was named an Indie Next Kids' List Great Read and a Bank Street Best Children's Book of the Year, among other honors. Rutkoski grew up in Bolingbrook, Illinois (a suburb of Chicago), as the oldest of four children. She attended the University of Iowa, where she took Writers' Workshop classes and studied with Pulitzer Prize-winner James Alan McPherson. After graduating, she lived in Moscow and Prague. Upon receiving her Ph.D. from Harvard University, she held dual appointments as a lecturer there in both English and American Literature and Language, and History and Literature. Rutkoski is currently a professor at Brooklyn College, where she teaches Renaissance Drama, children's literature and creative writing. She lives in New York City with her husband and cat.
Related Posts