Last Sunday was our Fourth Annual Novel Cuisine Luncheon (Check out my posts about 2013 and 2014.) This event was started by Liza Wiemer. Every dish and beverage is based on a (mostly YA) book we read that year. The last three years I've helped her set the menu and prepare all the food. This year Alyssa joined us as well!
2015 was our biggest year yet! We had nearly 20 people attend. It was so great to spend time with so many bookish people… authors, bloggers, booksellers, teachers, librarians… all YA enthusiasts. There was some great discussion. We used Jamie's (from Perpetual Page Turner) end of the year survey for ideas. I also created a bookish scattergories game and a subject headings/title matching game. I like to think everything was a success.
As an added bonus this year, everyone received an ARC of Melissa Gorzelanczk's ARROWS, which is being published by Delacorte Press on January 26, 2015! This is Melissa's debut YA novel. She's a Wisconsin author and we are all excited for her book!
Each year we have a book swap and donation. Attendees brought books to donate to the new Sojourner Family Peace Center's library. We collected hundreds of books to donate (and a few were swapped!)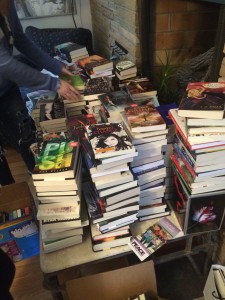 Our Menu:
Strawberry Fields Salad – We Can Work It Out by Elizabeth Eulberg
Deviled Eggs – Keeping the Moon by Sarah Dessen
Guac & Chips – What Happened to Goodbye by Sarah Dessen, When Joss Met Matt by Ellie Cahill
Trail Mix – The Start of Me and You by Emery Lord
Tomato Salad – Better Than Perfect by Melissa Kantor
Make Your Own Pizza – Saint Anything by Sarah Dessen, Lying Out Loud by Kody Keplinger, G0d Awful Loser by S. Acevedo
Pasta– Hello? by Liza Wiemer, The Infinite by Lori M. Lee
Pies – Hello? by Liza Wiemer, The Devil You Know by Trish Doller
Hummingbird Cake – Rebel Belle by Rachel Hawkins
Chocolate Chip Cookies – The Boy in the Black Suit by Jason Reynolds, Arrows by Melissa Gorzelanczk
Raspberry Lemonade – The Rest of Us Just Live Here by Patrick Ness
Hot Chocolate – A Court of Thorns and Roses by Sarah J. Maas
Coke/Diet Coke – What Happened to Goodbye by Sarah Dessen, Top Ten Clues You're Clueless by Liz Czukas
Sweet Tea – Persuasion by Martina Boon
GIVEAWAY: 2 ARCS of ARROWS (US & Canada)
(This giveaway is also being run in Liza's post about the event.)
Related Posts