Today marks the last day of 
Banned Books Week
for 2015. What is Banned Books Week? The Banned Books Week
website
 explains it thus:
Banned Books Week is the national book community's annual celebration of the freedom to read. Hundreds of libraries and bookstores around the country draw attention to the problem of censorship by mounting displays of challenged books and hosting a variety of events.
As a librarian, Banned Books Week is something I can really get behind. I am a huge proponent of allowing students the freedom to read whatever they choose. Kids are smart! I believe that they are capable of self censoring if something is too mature or they find it inappropriate. Banning books from all libraries because you don't approve of them is a drastic step.
Anyway, all week two YA blogs each day have been featuring a Random House book that has been banned. Check out the tour schedule:
Random House Children's Banned Book Week Blog Tour Schedule
Sunday, September 27
Monday, September 28
Tuesday, September 29
Wednesday, September 30
Thursday, October 1
Friday October 2
Saturday, October 3
As you can see, today I'm talking about The Cay by Theodore Taylor. Here's a bit about the book: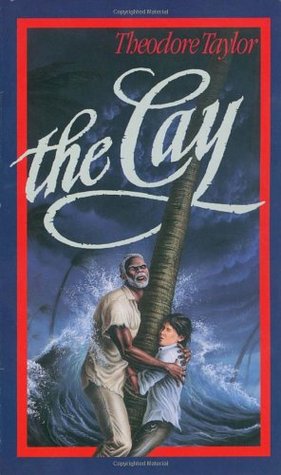 This award-winning novel remains a powerful classic of prejudice, love, and survival. In 1942, 11-year-old Phillip Enright lives with his parents on the Dutch island of Curaçao, but when the war moves too close for comfort, his mother decides to travel with him back to the safety of Virginia. When their boat is torpedoed, however, Phillip is blinded and finds himself adrift on a life raft with an old black man and a cat. They eventually land on a deserted island. Phillip is suspicious of "the large Negro," but soon grows to trust–and ultimately love–the patient and generous Timothy. Dedicated to "Dr. King's Dream," The Cay has a clear message that friendship is colorblind; it is also a terrific adventure story of a young, newly blinded man learning to survive on an uninhabited island.
This book was assigned reading when I was in sixth grade. It's actually the only book I remember from class that year! I remember the teacher playing the song Kokomo by the Beach Boys to teach us places in the West Indies. I also remember bringing in non-alcoholic pina coladas for extra credit because they were "tropical."
Looking back I'm not exactly sure that these activities contributed anything to my learning but they were certainly memorable. They also got me interested in the book. It's only about 150 pages and I flew through that sucker! I couldn't wait to talk about it in class. I remember being appalled by Phillip's racism and behavior in general. It's the first time I remember seeing a character grow and become better in a story. That was pretty influential!
Giveaway:
Thanks to Random House I have a giveaway of one copy of The Cay and a special poster that they created in honor of Banned Books Week that says "All the books you never would have read" and features the spines of many of the banned books on the tour! US only. Must be 13 or older to win. 
To enter simply comment telling me about a banned/challenged book you've read and enjoyed! You can see some frequently challenged books here!
Related Posts