Welcome to the first stop on the blog tour for Cayla Kluver's The Queen's Choice! I'm thrilled to be on this tour. Not only is Cayla a talented author… she's a Wisconsin girl too! 🙂 I have an interview with her about this new series. First, more about the book!
About the Book:
Magic was seeping out of me, black and agonizing. I could see it drifting away. The magic that would let me pass the Road to reach home again.
When sixteen-year-old Anya learns that her aunt, Queen of the Faerie Kingdom of Chrior, will soon die, her grief is equaled only by her despair for the future of the kingdom. Her young cousin, Illumina, is unfit to rule, and Anya is determined not to take up the queen's mantle herself.
Convinced that the only solution is to find Prince Zabriel, who long ago disappeared into the human realm of Warckum, and persuade him to take up his rightful crown, Anya journeys into the Warckum Territory to bring him home. But her journey is doomed to be more harrowing than she ever could have imagined….
The Queen's Choice
Heirs of Chrior tumblr
Add it to your Shelf: Goodreads
Get a Copy: Amazon |  Barnes & Nobles | Indie Bound | BookDepository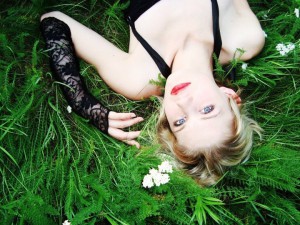 About the Author:
Cayla Kluver is the author of the Legacy Series (LEGACY, 2011; ALLEGIANCE, 2012; SACRIFICE, 2012).
Her new book THE QUEEN'S CHOICE will be published by HarlequinTEEN in winter 2013/spring 2014.
Cayla spends her free time singing, reading, dancing, and horseback riding. Her office is filled with twinkly lights. She travels frequently to speak at middle and high schools, libraries, and book conventions. New York City is one of her favorite places on the planet.
Goodreads |  Website | Twitter | Facebook
Author Interview:
• The Queen's Choice is your fourth novel overall but the first in a new series. What was your favorite part about starting this new series?
I had a ton of fun creating new characters. After three books with the same cast, it was an adventure being at the drawing board again in terms of raising personalities out of the dust. The Queen's Choice also represented a fresh opportunity for world-building, and I threw myself into it – this new book is higher fantasy than my original Legacy trilogy, and I experimented more with magic and mystical creatures.
• Anya seems like not-your-average faery. Can you tell us a bit about her and what it was like writing her? 
Anya is the niece of the Faerie Queen, so she's grown up with the best of both worlds: all the perks of being royalty, and none of the pressures of inheriting the throne. She's sixteen when we meet her in The Queen's Choice, and she's told that because the Prince has fled the Realm, she is now the heir apparent. The queen's death is impending, and Anya panics. She has always been independent and carefree, a lover of travel, happy to play a supporting role in the realm's politics, and she does not react well to the prospect of sacrificing her freedom. She runs, and tragedy promptly strikes, preventing her from going home ever again.
Writing Anya was difficult. She's a flawed character, who simultaneously has staunch principles that she sometimes unfairly unloads on others, coupled with an abiding fear of responsibility and of being controlled. As selfish as she can seem, however, she also has an incredible capacity for empathy, and even after she had been the victim of a violent crime, has a hard time bringing herself to hate. She goes through the ringer in this novel, so often I felt I was discovering things about her at the same time she was.
• In The Queen's Choice we have the Faerie Kingdom as well as a human realm. Was it difficult to do world building for both? Did you enjoy writing one more than the other?
The Faerie Kingdom is Anya's idea of paradise, but she's entranced by the ups and downs of the human world. Her perspectives mirror mine as the author. I loved spending time with the Fae in Chrior, and I have diagrams of how their treetop homes are designed, the way the catwalks rope around the city. Fae are connected to nature, and imagining what that visceral closeness to the elements might feel like, and how it might influence the minutiae of day-to-day life was challenging but refreshing. The human world, by contrast, is driven by industry, restricted by a corrupt government, and inspires something akin to awe in Anya, who can hardly fathom existing under such circumstances. Navigating it, for her and for me, was a bit like digging up graves – I never knew what I would find, and quite a bit of it was horrific. Still, I think the human world was more compelling for me to write – I spent more time there in The Queen's Choice, and it felt very raw and honest.
• Who was the most interesting character for you to write? What about the characters who you had the most fun writing interactions between?
Zabriel was so interesting to write – and so challenging! I rewrote his first scene at least six times because his voice is a complex one. He and Anya were close as children, but their approaches to life are opposite. Their philosophies seem to be in direct contrast. Writing in first person from Anya's point of view made it tricky to present Zabriel both accurately and sympathetically (although not everyone will sympathize, I'm sure). It follows that his interactions with the other characters were some of my favorites to write – he puts Anya in her place and dumbfounds her with some frequency, and he and Shea bicker like children. For me, he brings a unique light into the story.
• The ending is a cliffhanger! What are you trying to do to us?!?! 🙂 Was it difficult to leave the story there?
Maybe I'm sadistic, but that ending gave me a rush. I had it in my head from the very beginning, and I love to give a punch in the gut and then run. Although I think this cliffhanger might be less cliffhang-y than Legacy's ending. That one got me in trouble with a few people… but apparently didn't teach me a lesson. Sorry!!
• Anya is on a journey in the story. What was the best journey you've ever been on?
I'm from Wisconsin, and I decided (on a whim, really) to go to college in Pennsylvania. It was outside my comfort zone, I'd never lived on my own, I'd never spent any real time on the east coast, and I didn't know anybody when I walked onto campus. It was one of the best decisions I've ever made. There were definitely ups and downs, but I wouldn't trade it for the world!
• The Queen's Choice is a faerie story. I'm a sucker for these! What is/are your favorite faerie story/stories?
I'm a HUGE fan of classic fairy tales. In Sleeping Beauty, Flora, Fauna, and Merryweather are like little secret agents who save everybody behind the scenes and keep the plot moving. Peter Pan of course introduces us to the fairy as a bit of an antihero. My favorite modern fairy tale is Artemis Fowl. Talk about reinventing a culture! Absolutely brilliant work.
Giveaway:
Each tour stop is offering up a copy of The Queen's Choice, and one winner will receive a fantastic grand prize package including the following Harlequin Teen titles: 2 copies of The Queen's Choice, a copy of White Hot Kiss and Grim, a signed copy of Heartbeat and a complete set of The Legacy trilogy from Cayla Kluver.
Please enter via the Rafflecopter form. Giveaway is open to US/Canada.
Tour Schedule:
Monday, March 17th – YA Bibliophile
Wednesday, March 19th – Mundie Mom's 
Friday, March 21th – Two Chicks on Books 
Monday, March 24th – Melissa's Eclectic Book Shelf 
Wednesday, March 26th – Refracted Light Reviews 
Friday, March 28th – Such A Novel Idea
Related Posts