Hello! I am so pleased to be a part of the final day of the Penguin Teen Wicked Reads Blogger Campaign! For this tour each participant got to pick a type of candy from a list. We were assigned a book based on that candy. I choose Sour Patch Kids. My surprise package included A Map of Days by Ransom Riggs. This is the newest book in the world of Miss Peregrine's Home for Peculiar Children. Here's more about the book:
Having defeated the monstrous threat that nearly destroyed the peculiar world, Jacob Portman is back where his story began, in Florida. Except now Miss Peregrine, Emma, and their peculiar friends are with him, and doing their best to blend in. But carefree days of beach visits and normalling lessons are soon interrupted by a discovery–a subterranean bunker that belonged to Jacob's grandfather, Abe.

Clues to Abe's double-life as a peculiar operative start to emerge, secrets long hidden in plain sight. And Jacob begins to learn about the dangerous legacy he has inherited–truths that were part of him long before he walked into Miss Peregrine's time loop.

Now, the stakes are higher than ever as Jacob and his friends are thrust into the untamed landscape of American peculiardom–a world with few ymbrynes, or rules–that none of them understand. New wonders, and dangers, await in this brilliant next chapter for Miss Peregrine's peculiar children. Their story is again fully illustrated by haunting vintage photographs, but with a striking addition for this all-new, multi-era American adventure–full color.
Goodreads * Amazon * Indiebound
For this tour, I decided to do something a little different. I know I've mentioned before that I am a huge baby when it comes to scary stories. So, instead of focusing on the creepy aspects of Halloween, I decided to focus on the treats! I choose and modified a recipe for a sweet treat based on A Map of Days and took a photo based on the book! Actually, I chose TWO sweet treats.
When I opened my package an saw A Map of Days I knew I wanted to make a recipe of my nana's. The main character, Jacob, had a special relationship with his grandfather, Abe. My Nana meant the world to me. I spent a lot of time with her. We even spent many hours at a garage sales/rummage sales/estate sales/etc… like Jacob and Abe.
I immediately thought of making molasses cookies and decorating them like peculiar children. However, I quickly realized I am not creative enough for that! Still, I love molasses cookies so I made them anyway. In the photo they are on plates and ready to be decorated! Here's the recipe, handwritten by my nana. This was either my great grandmother's or great-great grandmother's recipe.
For my main sweet treat I decided to make a poppy seed cake. As my nana notes in the recipe below, this was her birthday cake for many years. Since A Map of Days finds Jacob back in Florida, I added orange marmalade between the layers. (I tried to make this but it was an epic fail so I used store bought marmalade.) The frosting was an old fashioned brown butter icing. This stuff is AMAZING and tastes like caramel.
I also added some items in the photo in honor of the time loops in these books. They create a strong connection to the past. The lace doily in the photo was made by one of my great grandmothers on my father's side. The incredibly creepy but oh-so-special doll belonged to the other great grandmother on my father's side. There are also some old metal newspaper stamps, which I collected from those sales I attended when I was younger.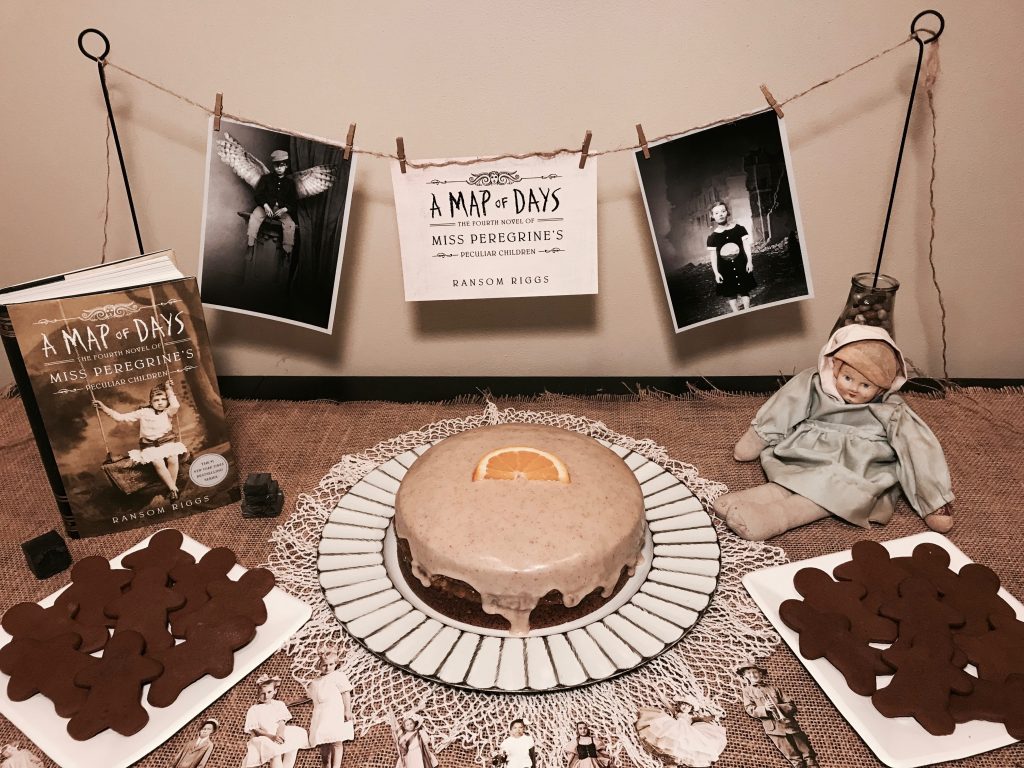 If you're still looking for a #WickedRead I highly suggest giving this series a try! You can also check out the other tour stops for some book ideas and incredible creative content! Make sure to follow @PenguinTeen on social channels to stay up to date!
Blog Tour Schedule:
Sour Patch Kids
October 29 – A Warrior's Library – Creative Instagram Picture
October 30 – Jo Loves to Read – Creative Instagram Picture
October 31 – Under the Book Cover – Characters: Costumes and Trick-o-Treat Candy
November 1 – The Page Mistress – Unboxing + Creative Instagram Picture + Sour vs. Sweet Post
November 2 – YA Bibliophile – Halloween Recipe
Twizzlers
October 29 – Read with Allison – Dream Halloween Party + Guests
October 30 – The MegaNerd – Inspired by the book: Pumpkin Decorating
October 31 – Bookbabe88 – Creative Instagram Picture
November 1 – Jena Brown Writes – Creative Instagram Picture + Halloween costumes based on a few characters from the book
November 2 – Treestand Book Reviews – Unboxing + Spooky Game
Jolly Rancher Sticks
October 29 – A Court of Coffee and Books – Spooktacular Book Reading Party
October 30 – Cheyenne.Reads – Photoshoot in a historical cemetery
October 31 – The Bibliophagist – Creative Halloween Picture +  Characters: Friends or Enemies
November 1 – Book Fidelity – Snack + Drink RecommendationsNovember 2 – Twinning for Books – Dia de los murtos: Day of the dead spotlight with fun gifs and spooky facts about the holiday
Swedish Fish
October 29 – Bookwormgram – Spooky Halloween/Autumn Creative Instagram Picture
October 30 – The Review Room – Moodboard + Playlist
October 31 – Books coffee and repeat – Creative Graphic
November 1 – Page travels – Creative Instagram Picture
November 2 – Kat's Books – Horror Movie Listicle
Snickers
October 29 – Bookish Lifestyle – Haunting Creative Instagram Picture + Truth or Dare Game
October 30 – Tenacious Reader – Digital Blackout Poetry
October 31 – live.laugh.love.library – Halloween themed picture + Listicle
November 1 – Sarcasm & Lemons – Aesthetic Board
November 2 – Fangirl.Bookgram – Halloween themed Creative Instagram picture
Related Posts