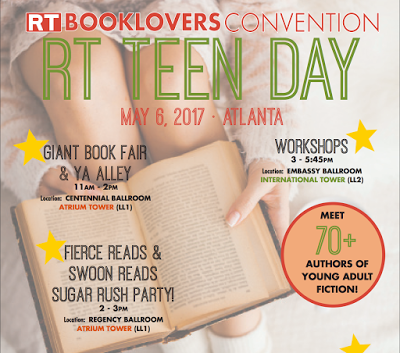 RT Teen Day is a week from today! I am so sad that I cannot go this year. It's always so much fun! If you're going, I'm totally jealous!!! If you're in the Atlanta area you have to check it out.
Find out more about this year's RT Teen Day line up here and follow them on Facebook here.
Thanks to RT Teen Day, I'm thrilled to share an interview with one of this year's YA authors, Jeff Giles. I really enjoyed his book The Edge of Everything. Thanks to Jeff for answering the questions I sent in!
Why are you excited to attend RT Teen Day?
This is totally selfish, but I just love getting book recommendations from teenagers. I've never seen such a passionate, engaged, articulate readership—and yet we hear all the time how teens supposedly don't even read anymore! I don't think our hearts change all that much once we've hit our teens, so the books that have helped them almost always help me, too.
Who doesn't love a good romance? Whether it's the driving force of the story or snuck off to the side, I'm always up for it! What appeals to you about including romance in your stories?
Nothing tells you more about a person than how they act when they're in love. And people act a thousand different ways. Some people, as we know, run away from love as fast as they can because they're scared about what it will reveal about themselves. But most of us crave it. It makes even the most ordinary things glow a little. It's like magical realism, except you don't even need to know magic.
What are some of your favorite romance tropes? For example, I love the enemies to lovers trope!
I'm a sucker for lovers from different worlds, as you see in my answer to the next question. I'm also a sucker for love stories where Person A has to break through Person B's defenses because Person B doesn't believe in love or doesn't think he/she is worthy of it. (At the moment, I'm thinking of Ewan McGregor singing a medley of love songs to a reluctant  Nicole Kidman in "Moulin Rouge.") I'm also a sucker for obstacles of any kind except for the thing where someone is racing to the airport at the last second to stop someone else from getting on a plane. That's what cellphones are for.
Who are some of your all time favorite fictional couples? Books, movies, comics… whatever!
I'm going to stick to movies because if I try to list all my favorite literary lovers we'll be here all day! I love the odd couple played by Johnny Depp and Winona Ryder in "Edward Scissorhands." Some of us worry that we'll hurt anyone we get close to, and Tim Burton's movie makes a beautiful metaphor out of that fear—Edward's hands are weapons, even though he's got an incredibly sweet, insecure, almost trembling soul.Also, there's a wonderful Harrison Ford movie that no one talks about anymore, "Witness." Ford plays a city cop who goes undercover in Amish country to protect a young boy, and ends up falling for the boy's widowed mom, who's played by Kelly McGillis. It's a classic lovers-from-different worlds story, and it's full of sublimated attraction. In one of the most famous scenes, which takes place in the glow of a lantern and soft headlights, Ford introduces McGillis to the beautiful old Sam Cooke song "What a Wonderful World" (aka, "Don't Know Much About History.") I thought about "Edward Scissorhands" and "Witness" constantly while I was writing "The Edge of Everything."
Obviously I think Young Adult books are simply incredible. I love the variety and the quality. What's you're favorite part of being an author of young adult books?
The young adults! But since I said that in answer #1, I'll get more specific. I'm just blown away by bookstagrammers— they make such beautiful art out of our books. They put them in trees. They wrap them in lights. They read them while wearing cool socks. They find the most perfect candle, the coolest flowers, and on and on. I think what they do is really inspired.
If you could spend a day inside the world of any book, which would you choose and why?
Great question! Okay, this would be scary but since it's only for a day: I love Ursula K.  LeGuin's sci-fi novel "The Lathe of Heaven," in which this guy George's dreams become reality the moment he wakes up. I'd love to wander around in my dreams a while.
What have you been reading or recommending lately?
In YA world, I've been pushing A.S. King's latest novel, "Still Life with Tornado." It's not a romance, but it's a beautiful, heartbreaking, magical book about a girl who meets herself at different ages and, with the help of her past and future selves, tries to figure out why her family is SO messed up. As far "grown-up" fiction, I always recommend Ann Patchett's novel "Bel Canto," which is set during a hostage crisis in a South American embassy. It's incredibly tense and romantic. Absolutely anyone who likes words will love it.
About the Book:
It's been a shattering year for seventeen-year-old Zoe, who's still reeling from her father's shockingly sudden death in a caving accident and her neighbors' mysterious disappearance from their own home. Then on a terrifying sub-zero, blizzardy night in Montana, she and her brother are brutally attacked in a cabin in the woods–only to be rescued by a mysterious bounty hunter they call X.

X is no ordinary bounty hunter. He is from a hell called the Lowlands, sent to claim the soul of Zoe's evil attacker and others like him. Forbidden to reveal himself to anyone other than his victims, X casts aside the Lowlands' rules for Zoe. As X and Zoe learn more about their different worlds, they begin to question the past, their fate, and their future. But escaping the Lowlands and the ties that bind X might mean the ultimate sacrifice for both of them.
About the Author:
Jeff Giles grew up in Cohasset, Massachusetts. Most recently, he was the deputy managing editor of Entertainment Weekly, where he oversaw all coverage of movies and books, including the magazine's championing of YA fiction. Jeff has written for Rolling Stone and The New York Times Books Review. He also coauthored The Terrorist's Son, a nonfiction book that won an Alex Award from the American Library Association and has since been translated into more than a dozen languages. While reporting on the Lord of the Rings movies for Newsweek, Jeff was invited to be an extra in The Return of the King. He played a Rohan soldier, and–because he didn't have a beard or mustache–they glued yak hair to his face. Jeff lives with his family in Montana. Connect with Jeff on twitter.
Related Posts