Welcome to stop two on the blog tour for Positively Beautiful by Wendy Mills! Today I have a guest post as well as a giveaway. Read on!
About the Book: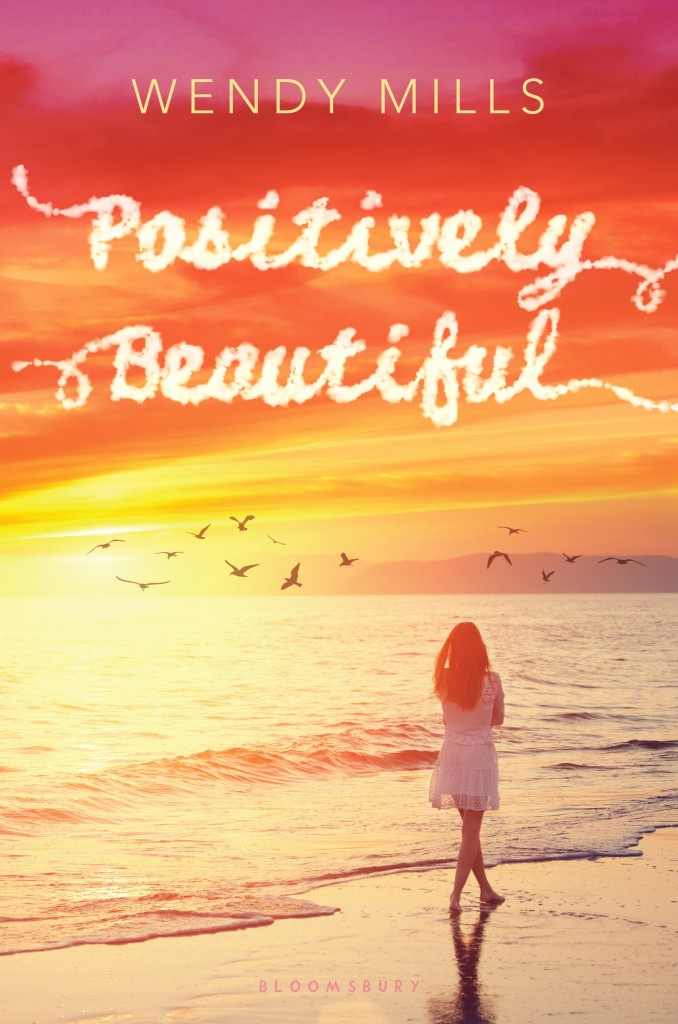 Jodi Picoult for teens meets Lurlene McDaniel. Beautiful written, beautifully moving, a vivid contemporary story of a girl's unusual but terrible dilemma – and the love story that springs from it.
Erin Bailey's life changes forever the day her mom is diagnosed with breast cancer. It's always just been Erin and Mom, so living without her is not an option. Life takes another turn when the cancer is linked to a rare genetic mutation, and Erin must grapple with the decision of whether or not to have her own DNA tested. Her only outlets are flying lessons, where looking to the horizon calms her deepest fears, and her new friend Ashley, a girl she met in an online support group. But when a flash decision has Erin flying away to find her new friend, she embarks on a journey from the depths of despair to new love and a better understanding of the true meaning of beauty.
This thought-provoking story brings readers to the emotional brink and back again, as they experience Erin's fear, her frustration, and ultimately . . . her freedom.
Guest Post:
A Day in the Life of a Student Pilot
In the interest of disclosure, I am not a pilot. My step-father has been a recreational pilot for a long time, and I spent many happy, childhood hours in the air in his small plane. (Which, while not yellow, does resemble Erin's plane, Tweetie Bird, in a an entirely non-coinkadink way—down to the clothes hanger holding one of the windows shut and the aluminum foil on the dash.) My mother flew sailplanes. So, yes, there is a some aviation history in my family, and yes, at one point when I was about Erin's age, I decided I wanted to learn to fly. It didn't last long, mainly because there is an incredible amount of math involved in the book part of flight training, and while I'm good at English, I pretty much suckolo at math. (This is why I'm an author, not a mathematician.)  But like Erin, I do love the feeling of being in the air in a small plane, which is way different than flying commercially, much like riding in a train is different than driving off-road in the middle of an Alaska tundra.
The number one question I have received about the flying parts of Positively Beautiful is "could  Erin really fly at sixteen?" And yes, she could. Anybody can. As a matter of fact, Erin could have started lessons at almost any age (as long as she could read, write and speak English, and the instructor felt she was mature enough to learn and follow procedures), and at the age of 16 she could solo.
Without any further ado, this is what Erin might encounter on any given day during flying lessons:
The night before a lesson: Check the weather. Check the weather. Check the weather. Practice a script of what to say to the Air Traffic Controller. I know that in TV and movies, what the tower says and what the pilot says sounds crystal clear, but I'm here to tell you, it does not. In fact, my biggest fear of flying, after the equations, was talking on the radio. I swear, it sounds like they are talking in an alien dialect and THEY ARE GIVING YOU LIFE AND DEATH INFORMATION.
The morning of: Check the weather. Check the weather. Check the weather. The weather matters no matter how much experience you have, but for an inexperienced flier, it is vital. Not only how fast the wind is blowing, but from what direction, because while you may be able to take off fine if the wind is blowing 30 mph straight at you, if you try to take off in a 30 mph cross-wind, then watch out. Also, until a pilot gets a special instrument certificate that allows her to fly in the clouds, an overcast day where the "ceiling" is low is going to ground a student pilot.
Upon arriving at the airport: Depending on what type of ground school a student has chosen, there may be some instruction to accompany today's flight. Imagine memorizing flight speeds, looking at upside down wedding cakes of diagrams, and deciphering equations that look like Greek and… (okay, enough, I'm boring even myself). But basically, the instructor will go over some things the student might encounter on that day's flight. If Erin is working on stalls (this is the heart-stopping maneuver that can be practiced by steering up and up until the plane's nose just simply falls over. Lots of fun. NOT), the instructor might go over what speeds a stall will occur, power and flap settings, aircraft bank…you get the picture.
Next: Check the OFFICIAL weather briefing. Because, um, weather matters, as I think I mentioned. File a flight plan, which basically says who you are, where you are going, and when you expect to be back. And God forbid you're not back when you say you are, because they will seriously send out the cavalry.
Go outside: Finally, finally, if the stars and weather have all aligned, we're getting to why we're here. But wait, no, you still have to do the pre-flight check, which involves something a little more complicated than kicking the tires and a little less complicated, then, say, building a nuclear submarine. Suffice it to say, oil is checked, wings are counted, and radios are tested.
The Flight: Off she goes, into the wide, blue yonder! Depending on where Erin is in her training, it is very possible that she would take the controls, talk to the tower, and take off and land without the instructor ever touching the controls. There are often "practice areas" near an airport where a student pilot can perform maneuvers, like the above-mentioned stalls, steep turns and banks (where it feels like you are going to fall out of the sky), and practice building a three-dimensional picture of what's going on around her. There will be simulated "emergencies" like an engine failure, cabin fire, and various system failures. There will be take offs and landings. Take offs and landings. Take offs and landings. This is when a lot of accidents happen, so THIS IS IMPORTANT.
Next lesson: Rinse and Repeat.
Learning to fly is not for the faint of heart, especially someone Erin's age in Positively Beautiful, but she has the determination and passion to make it happen.
Would you ever want to learn to fly?
About the Author:
Wendy Mills was born in Virginia and spent several years in North Carolina, but now lives with her family on the tropical island of Bokeelia, off the south-west coast of Florida where she spends her time writing and dodging hurricanes. She has published adult mysteries with Poisoned Pen Press, and Positively Beautiful is her first young adult novel. Visit her online at www.wendymillsbooks.com or on Twitter @WendyMillsBooks.
Tour Schedule:
March 2nd  Jenuine Cupcakes
March 3rd  YA Bibliophile
March 4th  Book Revels
March 5th  The Hardcover Lover
March 6th  Bookiemoji
March 9th  Dana Square
March 10th  Lovin Los Libros
March 11th  The Book Belles
March 12th  Adventures in Reading
March 13th  Who Ru Blog
Giveaway:
1 hardcover of POSITIVELY BEAUTIFUL by Wendy Mills. Entrants must be 13 years or older. U.S. Only.
Related Posts